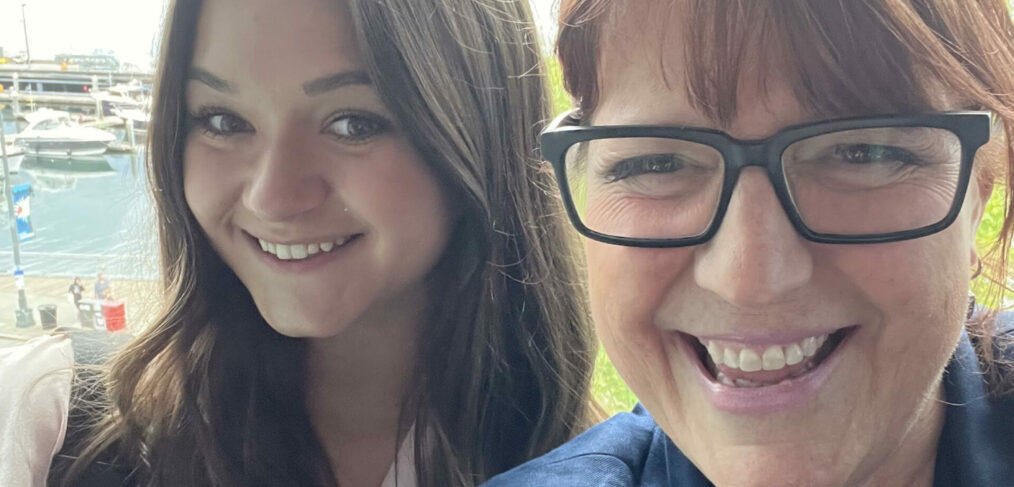 From the Desk of our Strategic Comms Intern – Week One
My name is Eva Hartman, and I'm a strategic communication intern this summer with The Keller Group. I'm a rising junior this year at the University of Southern California, majoring in international relations and looking forward to starting my master's degree soon in either journalism or public relations. I worked in communication previously with Ray United FC, a public health NGO based in Los Angeles and Uganda. If you're interested in international affairs, you can read my journalistic work at the USC Global Policy Institute. 
Last week was my first introduction to PR, and I jumped right in! I accompanied my new boss, the founder and CEO of the Keller Group, Lee Keller to the Board of Governors meeting at the Seattle World Trade Center (WTC), where she serves on the Board. We heard presentations from Chateau Saint Michelle Wineries and the Washington State Wine Commission on the state of the wine industry in Washington. The common theme throughout was, "The future couldn't be brighter for Washington wines."  I found these presentations to the Board incredibly insightful, and it was a great opportunity to learn more about agriculture in my home state. Did you know that Washington now produces more grapes than apples?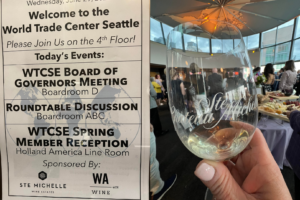 In comments from the President of the Washington State Wine Commission, Steve Warner, we learned that Washington is the second-largest wine-producing state in the US, with over 1,000 wineries making over 17M cases of wine, contributing more than $8B in annual in-state economic impact.
One thing that intrigued me was the international demand for Washington wine: South Korea is our largest export market, followed closely by the Nordic countries of Sweden, Denmark, and Finland. There's also a major emerging market in China, where wine is slowly becoming more popular. In my opinion, with the right marketing campaign, Washington vintners have an opportunity to get ahead of their European competition while the Chinese are still developing preferences for where their wine comes from.  
What surprised me most, though, was although grapes are a crop just like any other and are subjected to the droughts, wildfires, and floods we've all come to expect, Washington wine is well protected against climate change. Many European countries, such as France and Italy, are predicted to become too hot to produce grapes in the next 50 years, and California's droughts threaten a multitude of their crops already. However, Washington's grapes can handle a few degrees of extra heat because our winters are far wetter. Even when smoke and fires are taken into the equation, some sommeliers find residual "smokey flavors" in bottles that survived fires to be a novelty, and in the past, they've sold for more or become a collector's item. Again, if these bottles could be advertised as unique or a piece of history- imagine the demand, even internationally! 
According to the Wine Commission's website, a few of the things that make Washington 'Washington' are listed below. Hint: It has to do with our diurnal shift, the rain shadow effect, and our community. 
At a Glance:
Number of licensed wineries: 1,050

National rank as a wine producer in the United States: 2nd

Wine grape acreage: 60,000+ acres

Number of wine grape growers: 400

Varieties produced: 80+

Total annual in-state economic impact: $8+ billion

Growing season diurnal shift: 30-40°F

Annual wine production: 17+ million cases

Record harvest, 2016: 272,000 tons

Most recent harvest, 2021: 179,600 tons

Average hours of summer sunlight: Up to 17 hours per day, about 1 more hour during the peak of the growing season than California's prime growing region

Inches of annual rainfall in Columbia Valley: 6-8

Percent of wineries making less than 5,000 cases per year: 90%

Number of AVA's: 20
If you read Wine Spectator Magazine, keep your eyes peeled for the next issue that will feature an entire section on Washington State's thriving wine industry.  According to Mr. Warner, it's the first time Washington State's thriving wine industry has ever been featured this extensively in Wine Spectator. Mr. Warner also teased the fact that a special campaign will launch soon appealing to the younger demographic that remains largely untapped at present.  
Our workweek concluded with a tour of PBS affiliate KCTS in Seattle and a meeting on The Keller Group's video work with their video partners, Piranha Partners. But more on that later!
Meanwhile, we hope you'll enjoy the sunny week ahead, and if you feel so moved, you can enjoy it with a glass of Washington state wine!
Eva Hartman  
Be sure to visit our website at The Keller Group and follow us on social media including LinkedIn, Instagram, and Facebook.