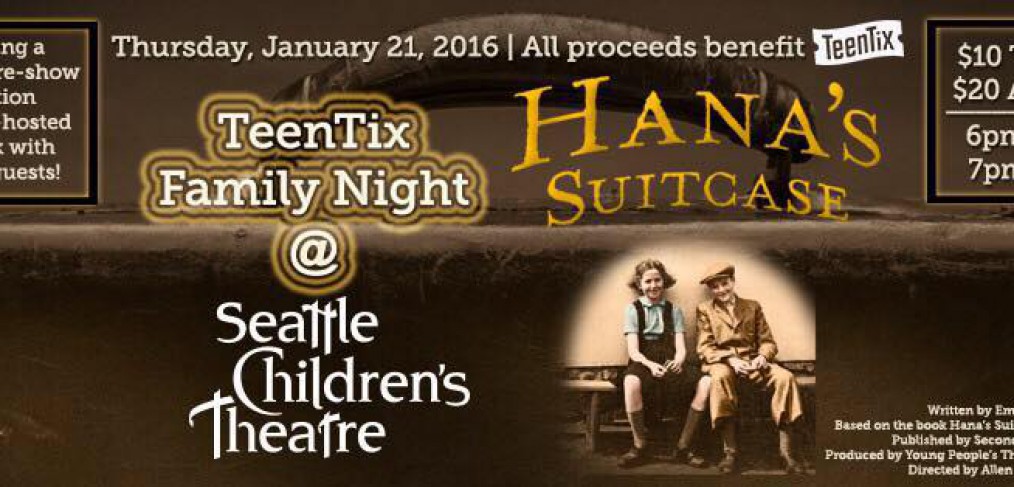 Holocaust Survivor, International Educator and Playwright Visit Seattle to Share Message of Hope and Tolerance
Last week, Holocaust survivor George Brady, along with international educator Fumiko Ishioka and playwright Emil Sher met with students and community members across the city to share their unique story of tolerance and hope. The three are connected through Hana's Suitcase, a play being produced this month at Seattle Children's Theatre in partnership with The Sheri & Les Biller Family Foundation.
Hana's Suitcase brings to life the true stories of two extraordinary young women: Hana Brady, a young Jewish girl who grew up during WWII and died at Auschwitz, and Fumiko Ishioka, a Japanese educator intent on sharing the history of the Holocaust with her students. The two are connected by the suitcase Hana traveled with during the war. In 2000, Ishioka received the suitcase from the Auschwitz Museum as an artifact she could use to humanize the events of WWII for her students.
The suitcase's arrival sparked a quest that led Ishioka around the world, ultimately uniting her with George Brady, Hana's older brother and the only member of her immediate family to survive the Holocaust.
Through George, Ishioka was able to learn the history behind the suitcase and bring the story of Hana Brady to life in a way that resonated with her students in Japan. Today, Hana's story continues to have a significant effect not only in Japan, but all over the world.
In conjunction with SCT's production, The Sheri & Les Biller Family Foundation created Friends of Hana's Suitcase, a community effort aimed at sharing the play's lessons with the broader community.
The Seattle production will be a catalyst for conversations around pressing issues that we face in our communities, such as discrimination, racism and hate crimes. "The play, with its themes of tenacity, resilience and hope will have an impact that reaches far beyond the stage," said Sheri Biller, President of the Biller Family Foundation. Biller first saw Fumiko and George speak nine years ago in Los Angeles and immediately went to see a performance of Hana's Suitcase in Canada (where the show premiered). She's been working to bring the play and its message of hope to Seattle ever since.
The Friends of Hana's Suitcase effort raised more than $150,000 in support of a comprehensive program of educational activities aimed at elevating discussion of the show's themes within the community. Playwright Emil Sher, Ishioka and Brady, along with his daughter Lara, visited classrooms of students scheduled to attend the play and are participating in panel discussions focused on the themes of diversity, understanding and learning from history.
The Keller Group had the opportunity to attend a preview of the
play last week.
"It was a great show," said Founder and CEO Lee Keller. "I brought my son, Jacob, because I think the play's themes, the importance of tolerance, what we can learn from history and how it's in the hand of future generations to ensure peace those are all things it is critically important for our children to hear and understand, given what's going on in the world today."
Hana's Suitcase runs through Feb. 7. For show times and to purchase tickets, click here.
Check out the links below to see more media coverage of last week's event: