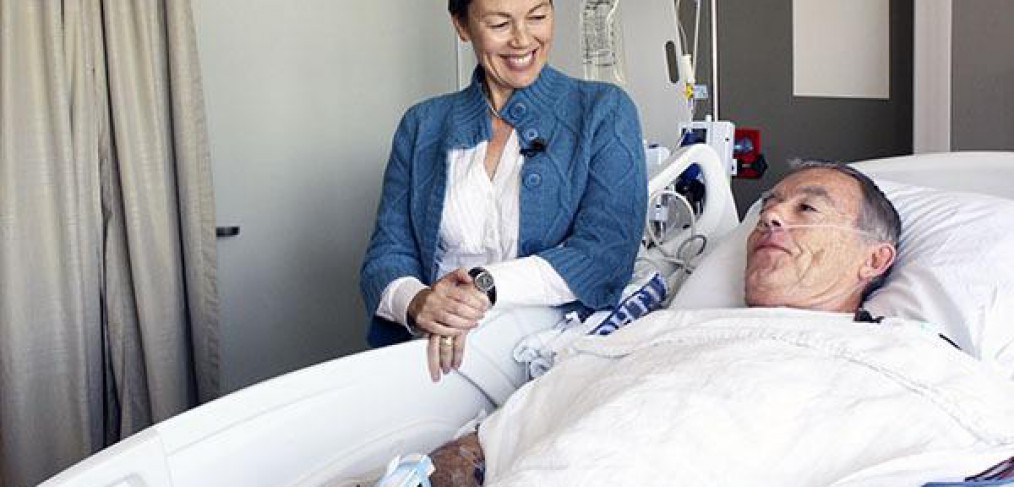 Man travels 6,000 miles for procedure at Overlake
By: 
KEEGAN PROSSER
Bellevue Reporter Staff Writer
MAY 1, 2013 · UPDATED 1:23 PM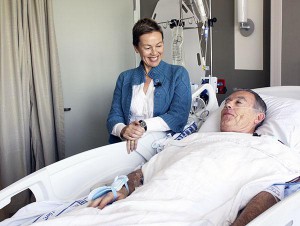 KEEGAN PROSSER, BELLEVUE REPORTER
Maria Escalona laughs with her husband, Eduardo Engler, after he underwent his second atrial fibrillation ablation surgery at Overlake Medical Center on Friday, April 26.
The cardiology department at Overlake Medical Center has long been recognized as one of the most prolific in the country, but this month, the team stepped into the international arena, when patient Eduardo Engler traveled more than 6,000 miles from his home in Osorno, Chile, in order to undergo a procedure called atrial fibrillation ablation.
The procedure, the second of which Engler has received from Overlake's Dr. Rodrigues, took place on Friday, April 26.
Engler underwent his first atrial fibrillation ablation procedure in 2005, after several attempts to cure his irregular heartbeat using medication failed. Engler was connected with Dr. Rodrigues through his own research, as well as through a suggestion by his wife's family, who were living on the Eastside at the time.
Dr. Rodrigues said arrhythmias like Engler's can be caused by a number of things: coronary artery disease, Electrolyte imbalance and changes in your heart muscle or injury from heart attack, among them. While some people feel no symptoms, others, like Engler, may feel fatigue, lightheadedness/dizziness and changes in mood.
Although Engler's heart responded well to the first surgery – and he was able to return to work on his ranch, as well as fly helicopters – Engler started experiencing a recurrence of symptoms earlier this year. Not interested in relying on medication, he sought Dr. Rodrigues' help once again.
Dr. Rodrigues said 10-15 percent of patients who undergo this procedure may require a second operation. And though Engler's recurrences weren't severe, it was something they wanted to be proactive about.
"It wasn't really bad, but he doesn't tolerate medications," Dr. Rodrigues said.
Due to the significant advancements in the last eight years, as well as an increase in experience, he feels confident this procedure will provide a complete cure for Engler's condition.
Dr. Rodrigues said it's important to note he doesn't do these surgeries on his own. In fact, he's been working with a team of surgeons since 2001, when he and Dr. J. Alan Heywood felt advances in technology made the surgery more accessible to achieve. They've since completed more than 1,000 atrial fibrillation ablation procedures at Overlake.
"When Eduardo gets into a helicopter – the way he knows when to take off and land safely is because he is supported by an excellent crew and that's no less true of what I do," Dr. Rodrigues said. "I couldn't do what I do if I wasn't as well supported as I am."
Friday's surgery seemed to be a big success, as Engler was already showing signs of feeling better.
"It's a new life for me," Engler said.
In addition to continuing his duties at the Arhythmia Center at: Overlake, Dr. Rodrigues will also begin seeing patients at Overlake's Kirkland Clinic starting May 8.
Contact Bellevue Reporter Staff Writer Keegan Prosser at: [email protected]Â or 425-453-4602.