Mission Accomplished for Historic Museum of Flight Heroes Gala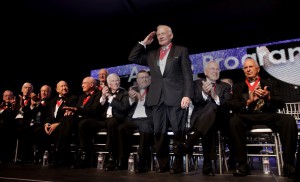 Buzz Aldrin saluting at Saturday's Wings of Heroes Gala at Seattle's Museum of Flight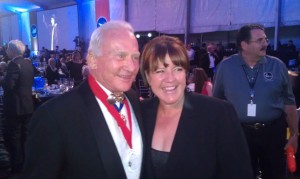 Lee Keller with retired astronaut Buzz Aldrin at Saturday's Wings of Heroes Gala at Seattle's Museum of Flight
What an exciting weekend at the Museum of Flight! From the black tie gala on Saturday night to the lectures throughout the day on Sunday, thousands were at the Museum to celebrate, pay tribune, fundraise, and support. Around $2 million was raised at Saturday night's gala to further the educational mission of the Museum.
A few highlights from Patti Payne's column on the event:
"Enthusiastic emcee and MOF Trustee Steve Pool calling up about 50 stars of space to the stage, including Buzz Aldrin; Walt Cunningham, James McDivitt and T.K. Mattingly; Jim Lovell, of Apollo 13 fame; iconic flight director Gene Krantz; Washington's homegrown astronaut Bonnie Dunbar; Russian cosmonauts Alexi Leonov and Valery Kubasov; Gene Cernan; Apollo 8 astronaut Bill Anders, who lives on Orcas Island; Gemini and Apollo astronaut Dick Gordon; NASA mission controller James Joki; Charles Simonyi; Chris Lewicki, involved with the Mars rover and CEO of Planetary Resources; Eric Anderson, head of Space Adventures; Jeff Bezos, Blue Origins; Brian Binnie, test pilot for SpaceShipOne, Paul Allen's project that won the Ansari X Prize; space traveler Anousheh Ansari, sponsor of that X Prize; and, to illustrate how far space travel has come, a father and son were on the stage, Skylab astronaut Owen Garriott and his son Richard Garriott, who has traveled to the International Space Station (ISS.) They are a great human interest story on their own.
Seeing, on the same stage, the oldest and most experienced, from Joe Engle, pilot of the X-15 earliest space mission, to the youngest and newest on the space scene, like space tourist Simonyi, who has been to the ISS twice, space entrepreneur Bezos, whose Blue Origins is creating manned rockets to go into orbit, and Anderson, whose company Space Adventures sends people up to space now.
Viewing the film clips that held the crowd rapt, with many asking each other, "Where were you when that happened?" all night long.
Feeling the camaraderie among the aviation community, many of whom hadn't seen each other for years but had worked together closely in their lifetimes, weathering space triumphs and tragedies.
Watching Apollo 1 astronaut Roger Chaffee's elegant widow Martha Chaffee presenting Deke Slayton's cherished gold and diamond astronaut pin to the museum on behalf of the Apollo 1 astronauts' widows who gave it to him.
Seeing, from my vantage point on stage during the auction, a wide-eyed audience amazed at the auction offerings, including a Saturn V model rocket signed by the Wings of Heroes gala honorees; a sheet of 1969 moon stamps, a collector's piece signed by six moonwalkers, including Neil Armstrong, Alan Shepard, Pete Conrad, Alan Bean, Jack Schmitt, David Scott; Apollo 13 commander Jim Lovell's signed space patch, which was with him in the harrowing April 1970 flight; and a trip to suborbital space donated by Space Adventures, which went for a whopping $100,000 to MOF trustee and Delta Captain Anne Simpson.
And witnessing the poignant and loving tributes to their father by Rick and Mark Armstrong, the two sons of Neil Armstrong, first man on the moon. Armstrong was slated to be at the event early on. He passed away Aug. 25, and the nation mourns his passing."
Tons of coverage has been pouring in from the full weekend. More to come!
For more information on the Museum of Flight, visit their website.