The Keller Group Enjoys a Summer Staff BBQ at Keller-Rusch Family Farm
Fun times and delicious food, not a bad way to spend an afternoon out of the office! Last week, The Keller Group team took some time away from the office to enjoy dinner at the Keller-Rusch family farm.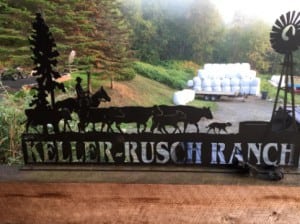 Closing the office early, the team headed out around 3 p.m., bound for Founder & CEO Lee Keller's home in the beautiful Snoqualmie Valley. Those able to attend the barbeque included TKG's Senior PR Strategist Carol Lucas, Business Manager Deborah McGrath, Senior Project Manager Margo Jasukaitis, Account Manager Sarah Nolan, Summer Intern Kelsey Beer and a surprise appearance from the most adorable member of our team, Office Pet Freya!
Before sitting down for dinner, the team toured the property, which has been in the Rusch family for more than 75 years. Lee's husband Mike is the third generation to operate the family farm. The Keller Group team hiked into the backyard forest (13 of the property's 40 acres are old growth Douglas Fir and Cedar trees), fed the turkey flock (they'll be sold in time for Thanksgiving!) and explored the ranch's 100 year old barn.
The team also got a chance to see the original Keller Group office: a renovated chicken coop Lee worked out of when she founded the company in 2002. We've come a long way since the agency's beginning in a one-room office with two employees; 13 years and two office locations later, The Keller Group has grown into a wonderful team committed to providing the best strategic communication and public relations services to its clients.
The dinner menu included: Deb's homemade champagne potato salad, Carol's homemade barbeque beans, fresh beef sliders (made with the Keller-Rusch grass-fed, all natural Red Angus beef!), raspberry mint lemonade and home baked blackberry crisp.
"One of the perks of working at The Keller Group is that the burgers come from the boss' own herd of happy Snoqualmie Valley cattle. Who else can say that?!" said Carol.
After an afternoon and evening of laughs, the team headed home.
"Lee was such an amazing host, she has a beautiful home and the food was incredible!," said Sarah.
"This amazing group of women honestly works as hard as any team I've ever worked with and I'm honored I get to see them and work with them each day," said Keller. "What made me happy about doing this is we finally spent some much-needed time out of the office. And my husband is still talking about Carol's beans!"
Ask and you shall receive, Mike! Recipes from the team's summertime feast are shared below.
You can learn more about The Keller Group and our staff on the website's team page or by visiting our Facebook page. For additional information, please call 425.898.2700.
Recipes:
Blackberry crisp (from Lee): This comes from my old Betty Crocker cookbook, but the electronic link to the crisp is here.
I stray from th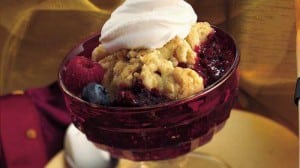 e exact recipe a little bit – using 5 cups blackberries and 1 cup blueberries. My major cheat is doubling the topping so it's crisper and more filling. I also take all natural oatmeal mix that already has some brown sugar in it and use that instead of just plain oats. I don't use cornstarch or lemon juice, blackberries are tart enough! Finally, the crisp must be served with vanilla ice cream!
Beef Sliders (Lee): Take good, old-fashioned home-grown, grass-fed beef from our farm and make each slider about ½ lb. Cook quickly on a hot grill and smother in smoked cheddar cheese, sauteed onions and mushrooms; I like to provide lots of different condiments to choose from including thick-cut bacon, maple syrup, avocado, lettuce, tomato and more!
Asparagus Appetizer (Lee): This is so easy – the catch is not to overcook the asparagus, but get it just right so it's tender and not too crispy. Start by putting the asparagus in a small amount of boiling water, letting it steam for about 2 minutes. IMMEDIATELY run icy cold water over the vegetables to preserve the bright green color and stops the cooking. I usually let the asparagus rest in the cold water for a minute, drain and pat dry. Then, wrap the asparagus stalks in whatever kind of meat you want my personal favorite is salami, but you can also use prosciutto or super thin-cut ham. Accompany with Jalapeno ranch dip and voila! Super easy appetizer in about 5 minutes.
Watermelon Salad (Lee): Cube a whole watermelon and place in a large bowl. Add flavorful vinegar (I used mango vinegar) and olive oil, cut up fresh mint from the garden, feta cheese, small pieces of onion (purple onion adds pretty color, but Walla Walla sweets add nice Washington flavor) and salt and pepper to taste. That's it! Another easy and flavorful dish!
Baked Beans (Carol): There's no precise recipe for the beans, bit of this, splash of that, it's bean improv. Just start with 2 large cans of beans and add mustard, molasses, spicy catsup and fried bacon crumbles to taste. Bake at 250 degrees for a couple of hours.