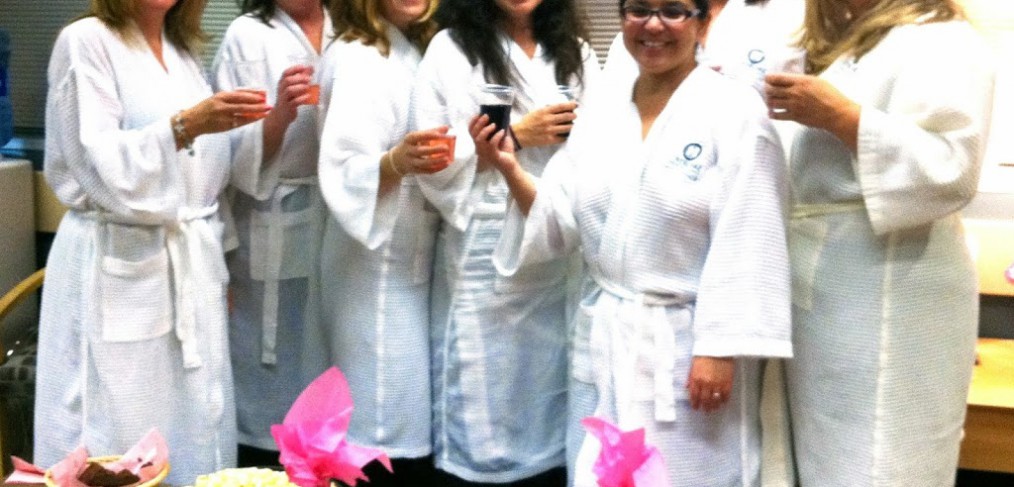 Women Take Control of Breast Health at Overlake Mammo Party
Overlake Medical Center hosted a group of women at a mammography party on Thursday, July 10th. Overlake offers mammography parties to encourage women to receive annual mammograms. While most women consider annual mammogram screenings to be an unpleasant chore, mammography parties make the patient experience one women can look forward to.
Each mammography party includes a spa-like environment for a group of women (family and friends invited by the hostess) to join together so they may relax and enjoy wine and cheese or tea and cookies while at the same time receiving their annual screening mammogram.
Early detection is critical to long term breast health and is vital to the successful treatment of breast cancer. Breast cancer is the second leading cause of cancer death among women. Statistics indicate that one in eight women will develop breast cancer in her lifetime. If detected early, the five-year survival rate for breast cancer is 97 percent. Women over age 40 should have a mammogram every year, and women between the ages of 20 and 39 should have a mammogram every three years.
Overlake is pleased to offer the best technology for its patients, 3D Digital Mammography-a breakthrough technology poised to revolutionize how breast cancer is detected today. Overlake chose this breast imaging system based on its excellent image quality and patient safety. The ergonomic design ensures a more comfortable experience for patients. The diagnostic tool also supports more confident diagnoses by radiologists, saving valuable time, reducing the need for follow-up imaging and allowing patients to get answers faster.
In order to be a hostess or an attendee of a mammography party you must be at least 40 years of age and have no current symptoms (no lumps, bumps, pain, etc).
To schedule a party call (425) 688-5985 and one of Overlake's mammography coordinators will be happy to schedule your party. The hostess will be able to schedule the time and location most convenient for the party members. The coordinator will need the name and telephone number of each of the guests so she may call and obtain pertinent health and insurance information.
For more information, please visit http://www.overlakehospital.org/services/breast-health/mammography/.