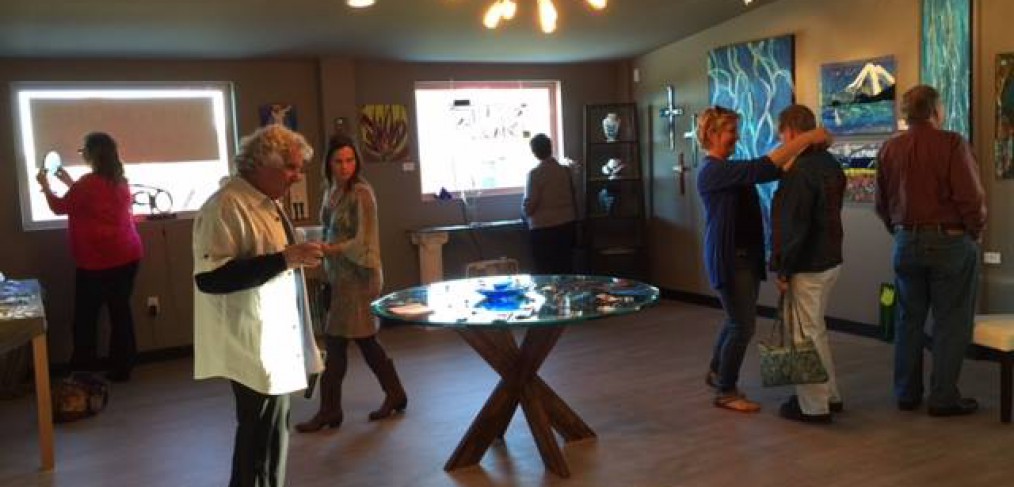 Artist Celebrates Whitmore Gallery's Grand Opening Featuring Unique Brand of Wall and Wearable Art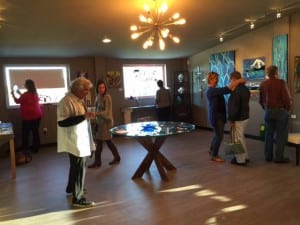 Long time artist Jill Whitmore celebrated the grand opening of Whitmore Gallery on Camano Island, last Saturday.
The event took place from 6:00 p.m. – 8:00 p.m. Guests enjoyed wine, hors d'oeuvres and live music performances by the artist, Jill.
"I'm so excited about living on Camano and opening my gallery here," said Whitmore. "I hope to provide a welcoming place where people come to relax, browse, enjoy the art, both wearable and wall – and find special treasures that will enhance their lives."
The Gallery is open 12:00 p.m. – 5:00 p.m. Thursday through Sunday until Labor Day, after which it will be open weekends and at additional times by appointment. Whitmore's work can always be viewed online at: www.windsingers.com.
The gallery primarily features kiln-fired glass and multimedia, including acrylic on canvas or Masonite.  At the grand opening, Whitmore will show a variety of wall art she has created, including florals (inspired by the Skagit Valley), nudes, landscapes, wine scenes and a series of Buddha images. One wall will be reserved for her most current work. These large works with fluid lines of glass overlaid as part of the composition are dramatic pieces inspired by nature.
"I am looking forward to meeting more of the wonderful people of Camano, creating personally for them and reconnecting with so many local clients and friends." I will also feature guest artists to be announced," Whitmore said.
Whitmore is also known for a visionary line of couture wearable glass art. This wearable art is primarily created from dichroic (pronounced dye-crow-ick) glass, which literally means "two colored" in Greek and is marked by fiery metallic brilliance. The glass is artistically transformed into wearable art including chunky necklaces, unique neck wraps, rings, bracelets and earrings. "I love putting layer upon layer of dichroic glass together in unusual color combinations and using special techniques developed by years of work with this kind of glass to create one-of-a-kind signature pieces," said Whitmore.
Whitmore is the descendant of a long line of noted American artists, including her great uncle Maxwell Coburn "Coby" Whitmore, one of the leading illustrators of the mid twentieth century as well as her grandfather Robert Houston Whitmore, a painter whose work is included in the Library of Congress.
A practicing artist for nearly 30 years, she recently made the decision to relocate Whitmore Gallery from Colorado to Washington, where her family lives. For ten years, Whitmore participated in the famous boardwalk show on Cabrillo Boulevard in Santa Barbara, Calif. The historic show was billed as a piece of living history highlighting the creative talents of local artisans. During that time, Whitmore also did shows in the Bay area and Sausalito, enjoying an overwhelming reception wherever she showed her work. In Colorado, she participated in upscale juried art shows in Taos, Santa Fe, Grand Junction and Estes Park before opening her gallery in La Veta, Colorado.
"I feel fortunate to have clients who collect my work from coast to coast," said Whitmore. "I look forward to reconnecting with people who collect my work in Washington State and reaching others in the region that have never seen what I do."