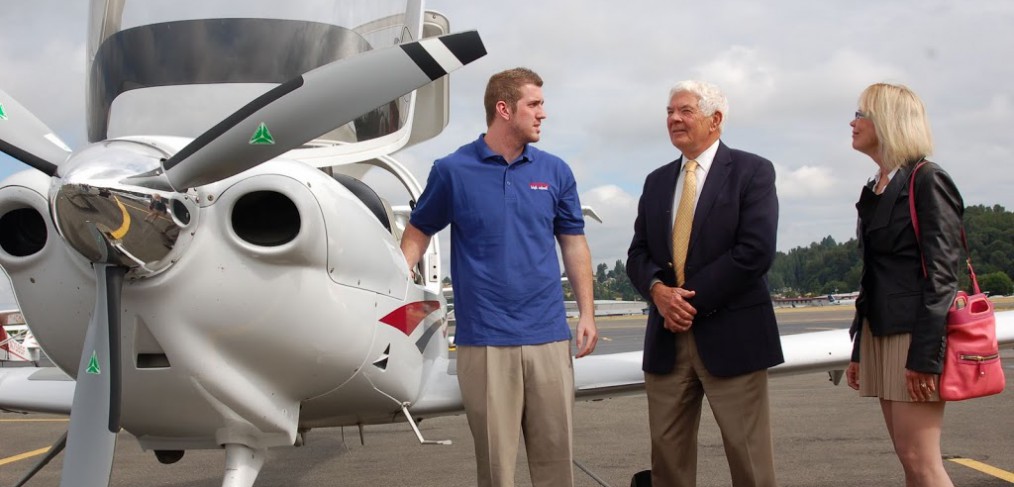 Aviation High School Launches Next Era; Breaks Ground on New Campus at The Museum of Flight
Yesterday, Aug. 23, 2011, Aviation High School launched into their next era as they celebrated their planned new, $43.5 million campus at The Museum of Flight with a groundbreaking that included four planes piloted by Aviation High School alumni, a student-built robot assisting with the first shovel of dirt and a symbolic, student-designed rocket launch.
"Today's groundbreaking represents a giant step forward in securing the future of Aviation High School," said AHS Principal Reba Gilman. "Since the school's founding in 2004, we have dreamed of having a permanent home on a campus such as this one at The Museum of Flight. We could not be more thrilled to partner with the Museum, whose mission mirrors our own, to inspire and prepare students to pursue education and career pathways in science, technology, engineering, and math (STEM) to fulfill the critical gaps in our nation's workforce."
Aviation High School has operated out of two temporary locations since its inception in 2004. The new facility is being built on East Marginal Way, across the street from the main Museum of Flight campus and just north of the Museum's outdoor airpark and brand, new space gallery.
Aviation High School was the first college preparatory aviation-themed high school in the nation. It is a school where all subjects are taught in the context of aviation, with a focus on science, technology, engineering, and mathematics (STEM) education. Although Aviation High School is part of the Highline Public School District, it is open to students all across the region. Last year, approximately 50 percent of the AHS student body came from the local area with the rest from surrounding districts as far away as Olympia, Everett, and Bremerton.
The Seattle Times' Jack Broom did a story on the groundbreaking that was on the front page of Tuesday's paper. That story can be found here.
Below are some pictures from the event.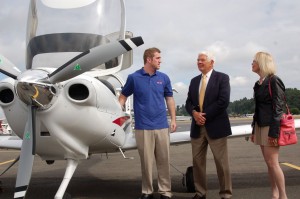 AHS donors James and Sherry Raisbeck welcome pilot and AHS inaugural class graduate Joey Marco after Marco arrived at the groundbreaking in a plane, which he piloted.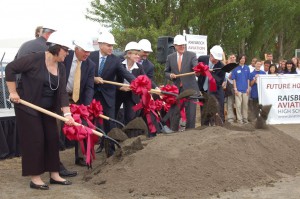 AHS breaks ground on its new high school campus. From left to right: AHS Principal and CEO Reba Gilman, AHS Donor and Supporter James Raisbeck, King County Executive Dow Constantine, Boeing Vice President for State and Government Operations in the Northwest Region Laura Peterson, Port of Seattle Commissioner Bill Bryant, Museum of Flight President and CEO Doug King and Chairman of the Board of Aviation High School Peter Anderson.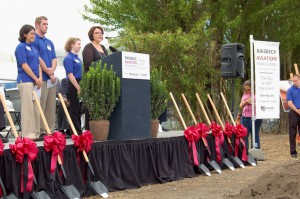 Aviation High School Principal and CEO Reba Gilman speaks to a large crowd gathered for the groundbreaking of the new Aviation High School on the campus of The Museum of Flight.