Come aboard: Port Blakely chairman's yacht for sale
Jun 3, 2013, 5:36pm PDT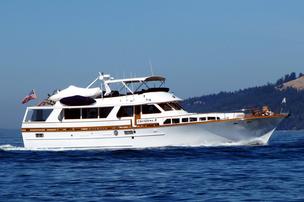 The 83-foot Christine K, owned by Jim and Christine Warjone,  is a classic Monk McQueen wooden boat. The space aboard is estimated at more than 2,000 square feet.
Columnist-Puget Sound Business Journal
With interest rates low
and homes 
selling more quickly
than they have in a long time,
one boat owner is hoping his
"floating home" will sell now,
at a discounted price of just under half a million dollars. 
Jim Warjone

and his wife,
Christine,
 own the Christine K.
The couple moved out of the Seattle area and have had their classic Monk
McQueen boat up for sale for two years. Jim is chairman of Port Blakely
Companies (timber and development), one of the founding family-owned
companies of the Northwest. He was its longstanding CEO before he turned
over the reins two years ago. The couple moved out of the area to Idaho and
Arizona, two places with no saltwater.
"It's more than fun to take a look at this posh, popular and spectacular wood
boat, and bring you onboard, behind the scenes. Of course a man in the
timber business would have to have a wood boat," says Jim, who insists that
maintenance is not much different than on a fiberglass boat.
But for me to take you on board … the trouble is, it's not exactly on display.
Under cover in its own private 100-foot boathouse in Salmon Bay, east of
and near the Ballard Locks in Seattle, the yacht is being preserved like a
rare painting, for the next buyer, complete with its specially built boathouse
and its docking privileges. So I will take you on a word tour, complete with
pictures. Come aboard:
The Christine K has two wet bars, four staterooms, a engine room and
workroom that's easy to stand up and walk around in, a galley that looks like
a full-sized farm kitchen, heads fitted with Italian Carrara marble, an enormous
single-level salon and so much more.
If you could measure the space on this 83-footer, it would likely come in
at more than 2,000 square feet. With its artwork, furnishings and turnkey
feel, it's like walking into a well executed home, right off the cover of
"House Beautiful," or "Architectural Digest." It's the stuff that some dreams
are made of. And it's always fun to dream.
If this boat could talk, it would tell stories of guests on board who head Fortune
500 companies, as well as whole generations of the Warjones' extended family.
It would tell you that Jim has lost so many cell phones overboard from this
yacht he loves that the last one he was given had water wings and a GPS locator.
The boat would tell many stories, including one about a prominent Seattle
man who bought an enormous, expensive steel yacht and lost control of
it on approach to docking at a Seattle Yacht Club outstation on Henry Island
in Roche Harbor in the San Juan Islands. It just so happened that the Christine
K was docked right in the pathway of this errant behemoth, which cracked into
the Christine K's anchor on the front, bending the anchor bracket. The collision
decimated the salon windows on one full side of the steel yacht, sending safety
glass and shards of that new ship everywhere. Ah, the stories.
Jim Warjone, still comes into Seattle once a month or so, and serves on boards
of two other for-profit companies, aside from Port Blakely,one of them in
Denver, one in Seattle.
Ever the engineer, he says his favorite area of the boat is the standup engine
room and workshop. He enjoyed working there, it was a little shop on its own
and I could make parts and things we needed and help others when they
needed things for their boats too.

 

He made straps, fixed valves, wiring and
parts for plumbing. "Whatever was needed I could mostly do on the boat," he says.
The couple found the yacht in Portland, through the internet. They had always
wanted a Monk McQueen and within 24 hours of seeing it, they bought it.
Then the checkbook came out and they revamped almost everything, spending
as much as the median cost of a home in the Seattle area.
"The Warjones handle the boat themselves, with no help, and have taken it all
over the Gulf Islands, Desolation Sound and the San Juans, but no farther.
Under other owners, it has gone to Mexico and Alaska. We managed it
ourselves, even in the locks," says Chris, who would warm up homemade cookies
to give to the Lock guys who helped them maneuver the lines.
Brett Aggen, 
part owner at Emerald Pacific Yachts in Seattle who represents
the Christine K, says the boating business is reflective of what's happening
in real estate. Right now it is turning around and is on the upswing, he says.
Sales of boats at his company were up 50 percent in April over the same time
last year. Emerald Pacific represents not only previously owned yachts, but
two boat lines as well: Horizon yachts from Taiwan, and Riviera Yachts built
in Australia.
And we are talking big money. Right now there is an order coming in for a
$10 million yacht, and Aggen has seen one sell for $5 million.
Clients include high profile business leaders, including some from the Fortune
500 list, as well as C level execs and business owners of all size companies.
Just last week he sold a yacht to a prominent former Mariner player. Sonic
is on the customer list as well.
"I've seen it all in 22 years," says Aggen. "I've been thrown every curve ball,
from the Luxury Tax Act in 1993 to our most recent market crash, to the
highs of 2007, and everything in between. Right now, people recognize the
values are out there and are not going to be around forever, including
incredibly low interest rates. People who have been holding off boating for
the last few years are serious now."
The Warjones' boat is far from the most expensive, but I would venture to
say it is one of the most beautiful, the way it is fixed up. It is selling now for
$499,000, down from $570,000. The boathouse, which can be bought with
it, in its permitted moorage, is selling for $500,000.
"It's turnkey to put your groceries in and go," says Aggen.
"The beds are made, the linens are there, the galley is outfitted with everything
needed," says Chris Warjone. "If someone buys it, they can count on me to
supply the warm cookies."