Gene Lynn makes $1 million donation to Overlake Medical Center
After more than 53 years of building hospitals, nursing homes and senior living communities across the country, Gene Lynn is giving back to the community that helped launch his career.
Lynn has contributed $1 million in an unrestricted gift to support Overlake Medical Center a hospital he helped expand and remodel earlier in his career. Lynn's donation is one of the largest individual gifts the hospital has received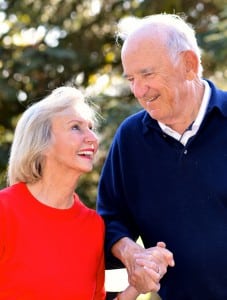 .
"I've been very fortunate," said Lynn of his business success. "If I'm going to give, I'm going to give to Bellevue. That's where I come from."
His company, Careage, designed and built Overlake Medical Center's east tower expansion project, transforming brick and wood into a modern concrete and steel structure that opened in 1980. Over 50 years, Lynn and Careage have developed more than 400 healthcare facilities and senior living communities in 26 states.
I really like that Overlake has decided to keep their hospital independent, Lynn said. He's watched Overlake expand its services and ability to serve patients alongside a growing and vibrant Eastside community.
Lynn built his first house in Bellevue in 1957 and, along with seven others, founded the Sahalee Golf Course in the late 1960s. While he and his wife live in Gig Harbor now, the 83-year-old developer will always call Bellevue his home.
He's built many commercial projects and developments throughout his career and now he's hoping to build more fundraising momentum for Overlake Medical Center. Working with Overlake Medical Center Foundation, Lynn hopes to help the hospital secure other donations. The needs of the Eastside are real, Lynn explained.
"We're so very fortunate to have community members like Gene supporting our mission to provide exceptional quality and compassionate care to every life we touch," said J. Michael Marsh, President and CEO of Overlake Medical Center. "His gift inspires us."
As a nonprofit hospital that receives no public tax support, Overlake relies on donations to help support program, technology and capital needs and provide care for patients and families coming to the 349-bed regional medical center.
Overlake Medical Center Foundation is currently raising $10 million towards the completion of a $20 million state-of-the-art comprehensive cancer center on the Overlake hospital campus.
To learn more or make a donation to Overlake Medical Center, visit www.overlakehospital.org/support.