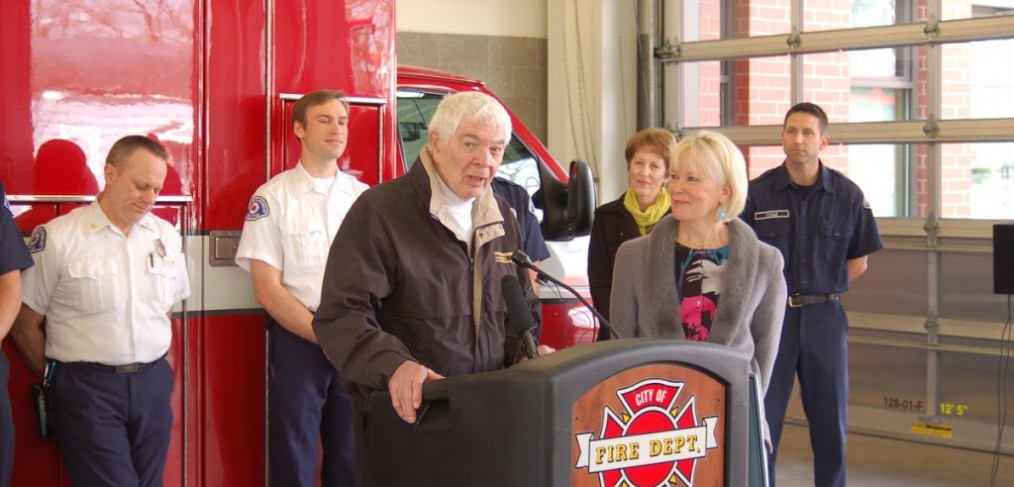 Medic One Foundation receives generous donation from James and Sherry Raisbeck
After collapsing in his Seattle home on Jan. 2, James Raisbeck, founder and chairman of Raisbeck Engineering, is lucky to be alive. His wife, Sherry Raisbeck, found him unconscious on the floor when returning home from dinner with friends. She quickly dialed 911. Medics from Fire Station 28 responded immediately and worked on him for a "long, long time before he could even be put on a gurney," Mrs. Raisbeck said.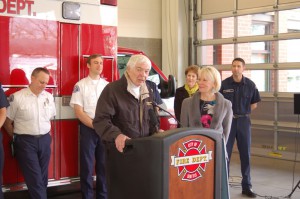 "Doctors at UW Hospital told me they had never seen a patient who came in that condition be able to (leave the hospital alive)," Sherry Raisbeck said. James had suffered an adverse reaction to a medication and was later diagnosed with acute autoimmune pancreatitis with sudden-onset Type I diabetes.
On Wednesday, April 4, the Raisbecks met with firefights and paramedics at Station 28 to thank them for saving his life and to present a check for $25,000 to Medic One Foundation which funds the Paramedic Training Program.This acclaimed program has become a model for the nation in training paramedics to think like doctors, and runs solely on donations.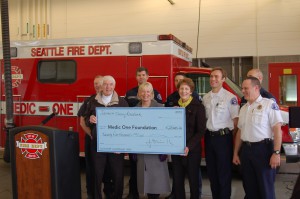 "Having my life literally saved by Medic One without question or argument made me realize how important they are to my life and all of our lives," says James. "We have been minor donors to Medic One Foundation for some time, but now we know more than ever that this is vital. Thank God they were able to bring me back from near death because of their world class training."

For more information, view the full story here.