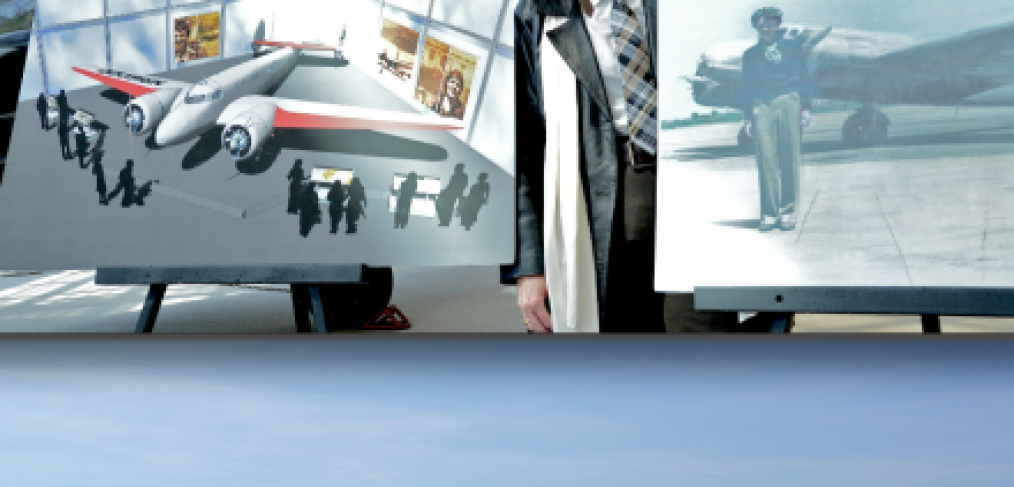 Museum of Flight's "Project Amelia" to land historic plane for Earhart exhibit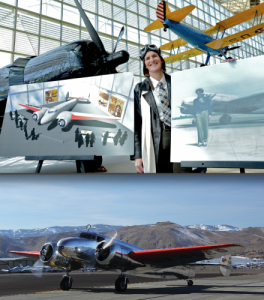 Top photo by Steve Shay, Bottom photo courtesy Museum of Flight
Top photo: Noted long-time Northwest/Delta Airlines pilot, Anne Simpson, a Museum of Flight trustee, is helping a fundraising effort to purchase a restored 1935 Lockheed Electra Model 10-E (pictured below) for a permanent Amelia Earhart exhibit, the same type of plane Earhart flew 22,000 miles on her around-the-world attempt. The plane would be placed in the museum atrium where Simpson is pictured. The cost is $1.2 Million, plus $200,000 for exhibits and educational program development. Over $800,000 has been raised so far through private and public fundraising.

The plane, which flies, currently resides in Reno. To obtain the Electra will require $1.2 Million, and an additional $200,000 for exhibits and educational program development. Over $800,000 has been raised so far through private and public fundraising. The Guild encourages those interested to donate during the May 15 Seattle Foundation
 
GiveBIG effort.
(this links directly to the general Museum GiveBIG page.Please type "for Project Amelia" in comment box.)
Seattle's Museum of Flight's new women's initiative, the ALL Ladies Guild, has launched a robust effort, "Project Amelia" to purchase a rare, restored 1935 Lockheed Electra Model 10-E, the centerpiece of a permanent Amelia Earhart exhibit. This is the same type of aircraft Earhart flew 22,000 miles on her around-the-world flight attempt in 1937 before she disappeared.
"Project Amelia" is spearheaded by Museum Trustees and aviators Anne Simpson and Nancy Auth along with Patti Payne, local communications figure. This will be the museum's third aircraft designed by Lockheed aeronautical engineer legend Clarence "Kelly" Johnson to be on display in the main atrium, joining his M-21 Blackbird and F-104 Starfighter.
Simpson, a longtime Seattle area Northwest and Delta Airlines pilot, sees the plane and accompanying exhibit at the museum as a crucial tool to help girls and young women become interested in aviation, and in STEM (science, technology, engineering & math) education in general.
According to the museum, "The Lockheed Electra 10E will provide a focal point for our efforts to involve young people, especially girls, in aviation. It will be featured in many of the Museum's education programs, including WomenFly!, a special program designed to inspire young women ages 12-18 toward STEM education and careers."
Anne's father, W. Hunter Simpson, was a well-known Seattle philanthropist, museum trustee, and president and chief executive officer of Physio-Control, maker of heart defibrillators and other heart and blood-pressure monitoring equipment. Anne's mother, Dorothy, earned her pilot's license the same day as Dorothy's father, in Florida. She became a Pan Am flight attendant but was forced to leave when she and Hunter married, the company's policy. Hunter passed in 2006. Dorothy is a "healthy 88," said Anne.
The Guinness Book of World's Records credits Dorothy Simpson as the oldest woman to fly in zero gravity in flight, on an Ilyushin IL-76 aircraft, at age 79. The flight, which took off from Zhukovsky Airbase, near Moscow, Russia, was organized by Space Adventures (USA).
Anne, who began with Northwest Airlines 32 years ago, one of just three female pilots at the time, credits her parents for encouraging her to become a pilot. She credits Amelia for inspiring her. She, in turn, wants to encourage and inspire the next generation of women in all fields.
"As far as inspiring innovation and creation, there is nothing better than aviation and space," Anne Simpson told the West Seattle Herald. "It's what fuels the fire and ignites the glow in young people. I see Amelia Earhart as an inspiration to the girls who come into the museum who are not only interested in airplanes, but those struggling with, oh, that 'junior high age,' trying to compete with the boys, and struggling with their self-esteem, and they see this person from the 1930's who did everything. You can be the best you can be. You can do it."
Simpson pointed out that Earhart was a "candy striper," or nurse's aid, helping WWI veterans, a prolific poet, and had her own successful fashion line.
While Earhart's Lockheed disappeared with her, the Museum of Flight has the only known piece of her airplane that exists today. Simpson explained that during Earhart's first round-the-world attempt her plane did a ground loop in Honolulu that wrecked it leaving pieces of the aircraft on the runway. This may have been caused either by flight, or mechanical, error.
"A young soldier was told to pick up the parts off the runway," she said. "He took a piece of it and sent it home to his family. A family member donated it to the museum a few years ago. It's now a priceless piece of twisted metal."
That piece is expected to be on display at the museum exhibit.
Simpson, who describes the airplane in Reno as "absolutely gorgeous", said that "one of the cool things about our fundraising effort is that every dollar that somebody gives to buy this aircraft is used twice."
She said, "It goes toward bringing this amazing plane to the Museum of Flight to inspire girls and young women in this amazing exhibit, and it is used again to reward young women through the Women Have Wings organization who give cash awards to women who exhibit boldness and courage as Amelia did."
Women Have Wings co-founder Kristen Wolf is the current owner of the 1935 Lockheed, and inherited it from her father. "She decided to mobilize it for the purposes of inspiration – to honor and uplift women and girls around the world – via an endowment established by the sale of the aircraft," according to the organization's website, www.womenhavewings.org.