Overlake Hospital and others celebrate the life of Larry Larsen

Eastside Fire & Rescue hosted a celebration of life event for Larry Larsen, who died four times in three days after a massive heart attack in January. After 10 days of intensive treatment at Overlake Hospital Medical Center in Bellevue, he made a remarkable recovery and was able to get up and walk out on his own.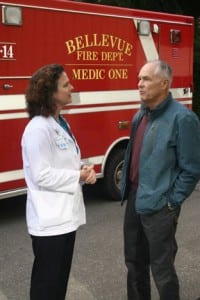 The celebration was held on Monday, March 15 at the Eastside Fire & Rescue Headquarters. The Larsens, along with all the medical professionals from Overlake Hospital, Bellevue Fire and the Alpine Animal Hospital who played a part in saving Larry'
s life were in attendance.