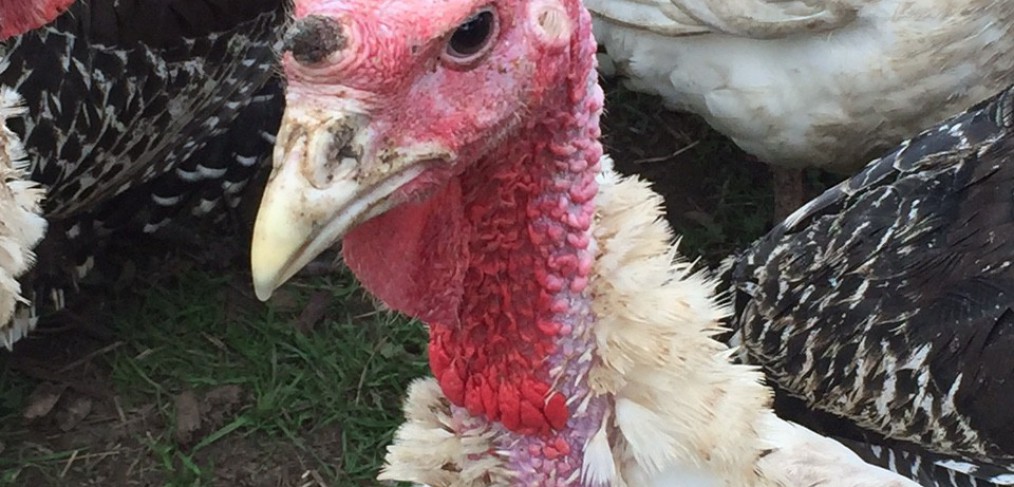 Thank you, Thank you, Thank you from The Keller Group
Welcome to the season of food, fun and family! Here at The Keller Group, our favorite thing about the holidays is giving back to others and eating. When we're not solving client problems, you can probably find us talking about food.
So, in the spirit of the holiday, we decided to share some of our favorite holiday recipes;
We hope you enjoy them as much as we do:
Lee, President and CEO: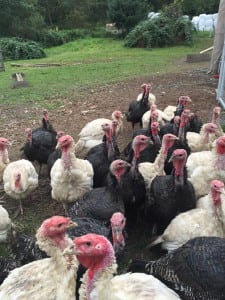 The star of any Thanksgiving meal is the turkey and my favorite kind of turkey is one raised on my family's very own Keller-Rusch farm! Every year, we raise our flock of turkeys, and get them as chicks later each year because they grow so fast! This year, we got the little chicks at the end of June and they spent the summer eating organic veggies and apples from the farm. This year, we tried something new: They ate the grains left over from the whisky making process at a local distillery in Woodinville called "Whisky Mash." When the turkey is organically-fed and farm-raised, you don't need to do much to make it taste great, just some salt, pepper, classic stuffing and a healthy dose of flavored butter! And make sure to do what my mother always did when we were growing up (and still does). She wraps the turkey in about 20 layers of foil, puts it in the oven at 250 degrees and lets it slow roast over night. I would wake up in the morning to the smells of the turkey, her amazing stuffing (with real butter of course to fry the bread, onions and celery), her homemade bread and pumpkin pies. Wow, I can gain 20 pounds just thinking about it. The best time of year ever!
Carol, Senior Strategist: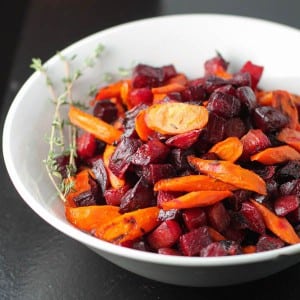 When I'm not working as The Keller Group's Senior Strategist, you can find me gardening at my house in Woodinville. My front yard is full of raised beds. This year there are still carrots and beets in the ground, so Thanksgiving will definitely include a beet salad. (Unfortunately I will have to dig through frozen ground to get to the beets; shoulda harvested a week ago, Carol!)
Beet Salad
Ingredients:
Instructions:
Preheat the oven to 425 degrees.
Peel the beets.
Cut into 1-inch chunks.
Toss lightly with olive oil and herbs.
Roast beets until sweet and crispy, about 15-20 minutes.
Place on a bed of fresh greens, top with roasted walnuts and chunks of either feta or blue cheese.
Drizzle with balsamic glaze (Trader Joe's, or make your own by cooking down equal parts balsamic vinegar and organic sugar). Delicious, healthy, and as local as you can get.
Margo, Senior Project Manager: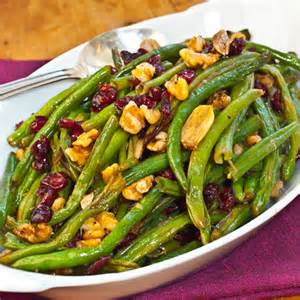 This recipe for roasted green beans with cranberries and walnuts isn't anything fancy, but it is the first dish I made for our family's Thanksgiving after I moved out of my parents' house and felt responsible for contributing my own side dish to the family's meal (instead of just taking partial credit for whatever my parents were bringing).
Roasted Green Beans with Cranberries & Walnuts
Ingredients:
2 pounds fresh green beans, stem ends trimmed
4 cloves of garlic, peeled and sliced into quarters
2 tbsp extra virgin olive oil
1 ¼ tsp salt
1/2 tsp black pepper
1/4 tsp sugar
1 tsp lemon zest (from one lemon)
2 tsp lemon juice (from one lemon)
1/2 cup dried cranberries
1/2 cup walnuts (you can toast this is you're feeling fancy; I, as a 22 year old when I first made this dish, unsurprisingly did not)
Instructions:
Preheat oven to 450 degrees; line a rimmed baking sheet with aluminum foil
Toss the green beans with the garlic, olive oil, salt, pepper and sugar directly on the prepared baking sheet.
Roast the green beans for 15 minutes, and then stir with a spatula. Continue roasting for about 10 more minutes, until the beans are tender and slightly browned – just starting to shrivel.
Add lemon zest, lemon juice, cranberries and walnuts and toss everything together.
Adjust the seasoning with salt and pepper as you like and that's it!
NOTE: If you're feeling fancy and want to toast the walnuts, you can bake them on a sheet pan at 350 degrees for about 10 minutes (until fragrant); again, as a 22 year old making her first solo contribution to family Thanksgiving, I skipped this step and it was still perfectly tasty.
Sarah, Account Manager:

My childhood best friend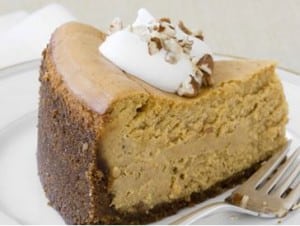 Rachel, whose family has been celebrating Thanksgiving with mine ever since I can remember, and I both have a soft spot for cheesecake. About four years ago, we decided to test out making a pumpkin cheesecake as a special contribution to our families' Thanksgiving meal. It was a hit! Everyone loved our dessert so much, Rachel and I decided to make it our new tradition; every Thanksgiving the two of us get together and make pumpkin cheesecake for Thanksgiving dessert!
Pumpkin Cheesecake
Ingredients:
12 tbsp unsalted butter, melted
2 ½ cups graham cracker crumbs
2 ¾ cups sugar
Salt
2 pounds cream cheese, at room temperature
1/4 cup sour cream
1 15-ounce can pure pumpkin
6 large eggs, at room temperature, lightly beaten
1 tbsp vanilla extract
2 ½ tsp ground cinnamon
1 tsp ground ginger
1/4 tsp ground cloves
2 cups sweetened whipped cream
1/3 cup toasted pecans, roughly chopped
Instructions:
Position a rack in the center of the oven and preheat to 325 degrees.
Brush a 10-inch springform pan with some of the butter.
Stir the remaining butter with the crumbs, 1/4 cup of the sugar and a pinch of salt in a bowl.
Press the crumb mixture into the bottom and up the sides of the pan, packing it tightly and evenly.
Bake until golden brown, 15 to 20 minutes. Cool on a rack, and then wrap the outside of the springform pan with foil and place in a roasting pan.
Bring a medium pot of water to a boil.
Meanwhile, beat the cream cheese with a mixer until smooth.
Add the remaining 2 ½ cups sugar and beat until just light, scraping down the sides of the bowl and beaters as needed.
Beat in the sour cream, then add the pumpkin, eggs, vanilla, 1 teaspoon salt and the spices and beat until just combined.
Pour into the cooled crust.
Gently place the roasting pan in the oven (don't pull the rack out) and pour the boiling water into the roasting pan until it comes about halfway up the side of the springform pan.
Bake until the outside of the cheesecake sets but the center is still loose, about 1 hour 45 minutes. Turn off the oven and open the door briefly to let out some heat.
Leave the cheesecake in the oven for 1 more hour, then carefully remove from the roasting pan and cool on a rack.
Run a knife around the edges, cover and refrigerate at least 8 hours or overnight.
Bring the cheesecake to room temperature 30 minutes before serving.
To finish, place a dollop of the whipped cream on each slice and sprinkle with the toasted pecans.
Kelsey, Public Relations Intern: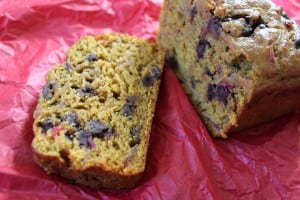 The holidays are without a doubt my favorite time of the year. I come from a pretty large family – 20 plus cousins – and every year we get together in Boise, Idaho to celebrate Thanksgiving together. I was always tasked with helping my mom and grandma with the baking. One of my favorite holiday recipes is the pumpkin cranberry bread recipe my mom tweaked and made her own. It's the most delicious, moist and beautifully colored loaf of bread! I hope you enjoy the recipe as much as my family has.
Pumpkin Cranberry Bread (makes 2 loaves)
Ingredients:
3 cups flour
1 tbsp and 2 tsp Pumpkin Pie Spice
2 tsp baking soda
1 ½ tsp salt
2 cups sugar
1 can (15 oz) Libby's Pure Pumpkin
4 eggs
1 cup applesauce (natural no sugar added)
2 tbsp vegetable oil
½ cup orange juice
1 cup fresh or frozen cranberries (chopped coarsely)
Instructions:
Preheat oven 350 degrees. Grease 2 loaf pans.
Combine flour, pumpkin pie spice, baking soda and salt in a large bowl.
Combine sugar, pumpkin, eggs, oil, applesauce and orange juice in a separate large mixer bowl; beat until blended.
Add pumpkin mixture to flour mixture; stir until moistened.
Fold in cranberries.
Spoon batter into loaf pans.
Bake 60-65 minutes OR until toothpick inserted in center comes out clean.
Deb, Business Manager:
In my opinion, the only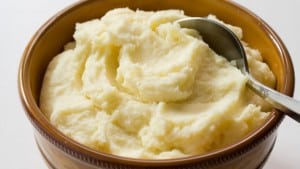 way to make potatoes is with a ricer.
Thanksgiving is a time to have potatoes, turkey and stuffing, so they can all be covered with gravy!
Ingredients:
2 pounds Yukon gold potatoes
1 tbsp salt, plus more to taste
1 cup milk, or cream
4 tbsp unsalted butter
1 tbsp creamy horseradish
¼ tsp freshly ground black paper
¼ tsp freshly grated nutmeg
Instructions:
Peel and cut potatoes into 1 ½-inch-thick slices. Place in a medium saucepan. Cover with cold water; add 1 tbsp salt. Bring to a simmer.
Keep potatoes at a low simmer until a knife slips in and out easily.
Drain potatoes in colander.
Place potatoes into potato ricer.
After potatoes are riced, using a whisk, incorporate butter.
Drizzle in hot milk, whisking continuously.
Add pepper, nutmeg, and salt to taste; whisk to combine.
Serve immediately
From our family at The Keller Group to yours, happy holidays!